Summer School, 18th - 22nd June, 2018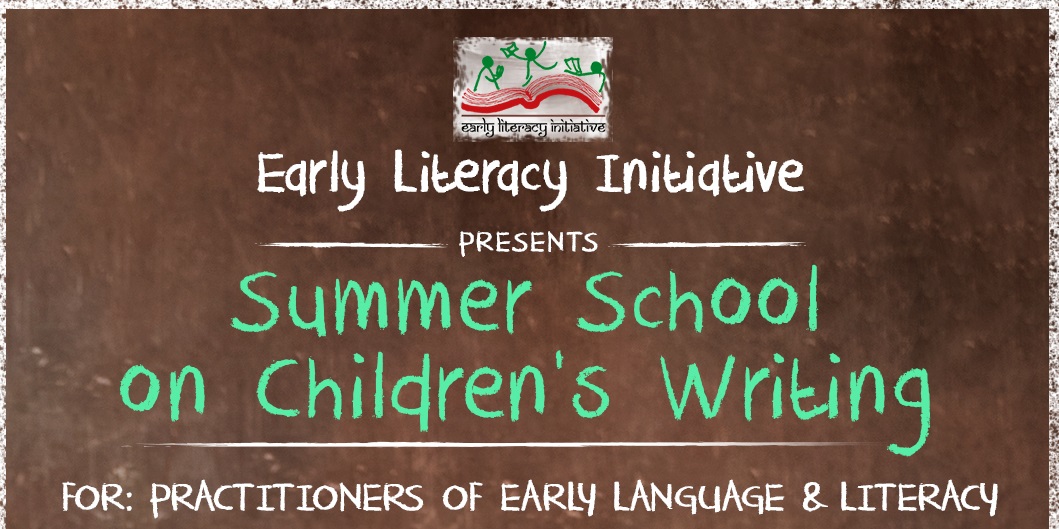 ---
EARLY LITERACY INITIATIVE
SCHOOL OF EDUCATION, TISS, HYDERABAD
JUNE 18-22, 2018
Resource Persons
Prakash Anbhule 
Prakash was in the first batch of students in Kamala Nimbkar Balbhavan, where he studied from pre-primary to standard ten. He now has over 15 years' experience in Pragat Shikshan Sanstha, Phaltan, as their ICT teacher, website designer and administrator.  He is also currently the Project Director, Nurturing Early Literacy in Primary Schools in Phaltan Block. In addition to his interest in computers and in Information technology, Prakash is also interested in writing poetry.
Manjiri Nimbkar
Dr. Manjiri Nimbkar acquired an MBBS in 1981 and ran her own private practice as a general practitioner in an economically disadvantaged area of Phaltan town.
She founded a school for children with special needs in 1985 and ran it for four years. 
In 1995, she started working in the Kamala Nimbkar Balbhavan (KNB) of Pragat Shikshan Sanstha in Phaltan, founded by Dr. Maxine Berntsen. KNB is an innovative Marathi medium school with classes from kindergarten to tenth. She became the Principal of KNB in 2000 and a Director and treasurer of Pragat Shikshan Sanstha in 2002.  She received the Barrister P.G. Patil Memorial award from the Satara District Secondary School Retired Principal's Association for ideal Principal in 2006.
 She obtained an MA in Elementary Education (winning the gold medal) from the Tata Institute of Social Sciences in 2008.
She has written many articles in magazines and newspapers in Marathi and English on education. In 2010 she wrote a book called Mulanche Srujanatmak Likhan (Children's Creative Writing) based on the writing of students in KNB.
Maxine Berntsen 
Maxine Berntsen first came to India in 1966, and spent two years teaching at Vivek Vardhini College in Hyderabad. While in Hyderabad she also started studying Telugu and Marathi. In 1963 she returned to the U.S. to do course work for a Ph.D. in linguistics, and in 1966 she returned to India to do the field work for her dissertation on sociolinguistic variation in the speech of Phaltan, a taluka town in Western Maharashtra. In 1978 she renounced her American citizenship and became an Indian citizen, although she continued visiting the U.S. every other year to teach Marathi to students who were preparing to spend a year in Pune. That same year she started working with out-of-school children, and in 1984 founded the Pragat Shikshan Sanstha (PSS).
When the TISS M.A. in Elementary Education programme was being set up, Maxine and Jane Sahi developed the course in First Language Pedagogy, which they taught from its inception until last year. In 2012 she was invited to join the new TISS campus at Hyderabad as a Professor Emerita. At present she is teaching one course in TISS, and  heading an ELI project to adapt  for Telugu the reading  approach she had originally developed for Marathi.
She has received many awards for her work, the most recent being the Marathi Abhyasak Puraskar, an award from the Maharashtra government for her work in Marathi. A sketch of her life and work was also included in the volume, Daughters of Maharashtra. For her 80th birthday in  2015, Sujata Noronha and Jane Sahi brought out Threading Texts within Contexts – a selection of her poetry and her writings on language and education.
Shailaja Menon 
Shailaja Menon is Professor and Programme-in-charge of the Early Literacy Initiative at Tata Institute of Social Sciences, Hyderabad, a unique initiative dedicated to raising awareness and building knowledge about the teaching and learning of early literacy in Indian contexts. Concurrently, she also works as visiting faculty in the area of Language and Literacy at the School of Education, Azim Premji University, Bangalore.  Shailaja has completed her BA (Psychology) from Delhi University, M.Sc. (Child Development) from MS University, Baroda, and her Ph.D. in Literacy, Language and Culture from the University of Michigan at Ann Arbor. Prior to joining Azim Premji University, she has taught at the University of Colorado, Boulder, and at Jones International University.  From 2011-2016, she lead a longitudinal project, Literacy Research in Indian Languages (LiRIL), investigating the teaching and learning of early language and literacy in Maharashtra and Karnataka.  She is a co-editor of the volume: Childhoods in India: Traditions, Trends and Transformations (Routledge, forthcoming).
At Azim Premji University, Shailaja offers courses related to early literacy, children's literature, child development and learning, curriculum and pedagogy in the early years, and research methods. Shailaja is also a key anchor of the bi-lingual children's literature festival, KathaVana, that is hosted annually by Azim Premji University (2012-present). She has served on the jury for the Hindu Literature for Life awards for Children's Literature, and Sir Ratan Tata Trust's Big Little Book Award. Shailaja's publications have appeared in international and Indian journals, and she serves on several advisory committees that are currently shaping policy and practice related to early literacy in India.
Jane Sahi
Jane Sah has been working in the area of education for the last 38 years. She was born in England and moved to India in 1968 in search of a deeper understanding of Gandhiji's life and values. Gandhiji continues to be to a strong source of inspiration for her, in particular, his vision and theory of basic education. In 2000 she wrote a book entitled 'Education and Peace'.
She also set up an alternate school in 1975, called Sita School, where the focus was on holistic, child centric education for every child. The school had an emphasis on learning through art and to Jane, her engagement at the school formed the basis of her work.
Jane has conducted a number of workshops on language teaching for the Centre for Learning, Bangalore, Teacher Foundation, Regional Institute of English, Bangalore, PSS, Phaltan and Kiran Centre, Varanasi and Ashram Shala Schools in Chamrajnagar. She has been actively involved in the Alternative School Network, an informal group of individuals working in the field of education, for almost two decades now.
Shubhra Chatterji
Mrs. Shubhra Chatterji has been working in the space of School Education since 1986. She has worked as a teacher, curriculum developer, pre-school incubation expert, teacher educator and designer of teacher preparation programmes.  She has worked in a variety of socio economic settings, and is founder Director of Vikramshila, a resource organization that works across the country on issues of educational quality and equity. This organization began its journey by providing teacher support to rural NGO run pre-schools – it has evolved alongside the children it serves, and now works across the K-10 spectrum across 10 states of India. Most recently Mrs. Chatterji has provided technical expertise in rewriting the ECE curriculum for the ICDS system in West Bengal and Jammu and Kashmir. One of her abiding areas of interest is 'Language Learning in Early Years'.  She is an avid reader of books and enjoys watching good movies.
SUNITA SINGH
Sunita Singh is an Associate Professor at the School of Education Studies (SES), Ambedkar University Delhi (AUD). Dr. Singh completed her Ph.D. from the Department of Curriculum and Instruction (Language and Literacy), University of Illinois at Urbana-Champaign and her MA and MPhil from Jawaharlal Nehru University in linguistics. Prior to joining AUD, she worked as an Associate Professor at Le Moyne College, Syracuse. She has worked extensively in schools, with teachers, families and in communities. Dr. Singh has published chapters in books and articles in several international peer reviewed journals. She teaches courses in language and literacy and early childhood education in the School of Education Studies, AUD. At CECED, Dr. Singh is a faculty mentor for various ECCE projects
Keerti Jayaram
Keerti Jayaram is currently the Director of the Organisation for Early Literacy Promotion or OELP. OELP aims to build strong foundations in Early Literacy and Learning (ELL) for young learners from diverse socio-cultural and linguistic contexts which include children from low literate communities in rural Rajasthan. The outreach of this work extends to seven district in Rajasthan and a few other States of India. Keerti has represented OELP on various national and international platforms such as Advisory Body for Early Literacy of the MHRD, Reading Cell at NCERT and UNESCO Asia Summit.
Previously, she has taught Pedagogy of Language courses on the B. El. Ed Programme in Lady Shri Ram College, New Delhi, from 2002 to 2006. Her professional experience includes intensive engagement through Individual Education Plans (IEPs) for children with special learning needs from the American International School in New Delhi from 1999 to 2005. She also worked as Coordinator of the Ramjas Teacher's Centre for nine years. This was period when she was able to actively explore innovative classroom pedagogies such process writing; writers' workshops; literature circles; cooperative learning; circle time and learner centered approaches to Science, EVS and Maths along with innovative approaches to assessments within each of these domains. Keerti has had more than 30 years of experience in Elementary Education as a teacher, teacher educator, curriculum developer, researcher and parent, and has interacted actively with the academic world as well as with the multiple worlds of education practitioners. She has several publications to her credit.
---
Concept Note
Rationale
Learning to write is an important aspect of early language learning. In most Indian contexts "writing" is understood largely as "mastering the script" – spelling correctly, writing with good handwriting and grammar. It is taught in ways that are devoid of meaningful connections to the child's context; nor is it seen as linked to the child's talking, reading or thinking. This understanding gets translated within classrooms into commonly used pedagogical strategies such as copying, repetition, rote-learning, grammatical and spelling precision etc., each focused on the final goal of scoring high within examinations.
The loss of engagement associated with the above pedagogical strategies calls for a need to relook at our understanding of children's writing, and consider ways in which it should be developed and assessed. Writing begins right from the time a child starts to draw and scribble in an attempt to express her explorations of the world. This phenomenon which is a part of a child's emergent writing is completely ignored from the education system which considers writing to begin only at the point where a child can perfectly write letters and words. Our focus on the "product" of writing keeps us from focusing on the "processes" of writing. Increasingly, reflective practitioners and researchers have been emphasizing on the need to pay attention to the ways in which a child's writing develops. We also need to pay attention to the ways in which writing is enriched by a child's interactions with books, art, dialogues, exposure to different writing styles etc. Seeing writing as an activity that is developed by combining a child's authentic experiences with contextually appropriate instructional strategies, will help in shifting writing from being a drab and burdensome process into a powerful medium of expression.
Many practitioners working in the domain of Early Language and Literacy have expressed a need to ELI for focused inputs on understanding the teaching and learning of Children's Writing. Given this need in the field, the Early Literacy Initiative proposes to organize a 5-day Summer School on various aspects of this topic. Some of the aspects that the Summer School would be engaging with are:
Making space for writing in elementary classrooms

The reading-writing connection

Talk and writing/Art and writing

Understanding children's emergent writing:

Creating a writer's workshop

Assessing writing
The sessions will be conducted by diverse resource people who have experience and knowledge with working with Children's Writing. Through these sessions, participants will engage with both theory and practical ideas. Participants are encouraged to bring in their own work with Children's Writing in the field to enrich these interactive sessions. The over-arching objective is to support practitioners on the ground with relevant theoretical ideas, well-grounded research and instructional strategies for reimagining and developing Children's Writing.