ELI Summer School, May 2019
 ELI Summer School, 2019
Children's Literature in Early Language Classrooms
May 20th- 24th, TISS Hyderabad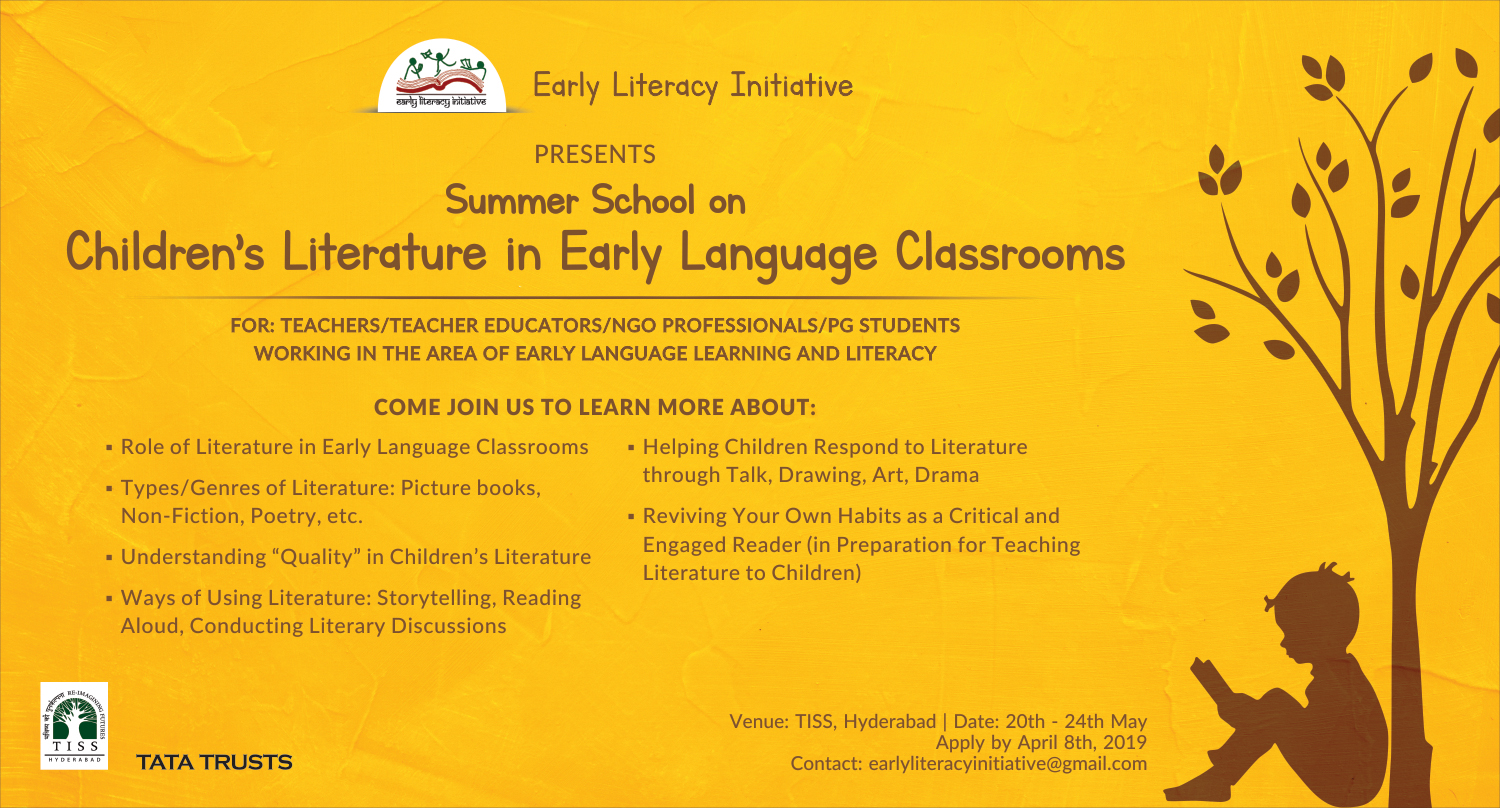 Applications to Summer School 2019 are now closed
Concept Note
The Early Literacy Initiative (ELI) proposes to conduct a five-day workshop on Children's Literature at TISS-Hyderabad from May 20th-24th, 2019.
The workshop aims to build practitioners' capacities for understanding and using literature meaningfully with children in early language classrooms. The workshop is designed for interested professionals (teachers, librarians, NGO professionals, etc.) and post-graduate students working in the area of early language, literacy and library education.  
Rationale
As educators, we all talk about setting our students on the path to lifelong learning. Most of us would also agree that lifelong learning in modern economies and societies involves reading. Unfortunately, language is used in very instrumental ways in most Indian classrooms; and its humanistic potential is left sadly untapped.
A good reader, in our conception, is not just one who can "decode" the text in order to derive content from it. Rather, a good reader is someone who can navigate a variety of texts for a variety of purposes – including that of deriving personal pleasure and understanding from them. If our aim is to see our students evolve into this kind of a reader, then what would be better than inviting them into the world of children's literature? As Rebecca Lukens put it, "Great children's books can help children learn what it means to be human". These texts, enriched and enlivened by the authors' and artists' imagination bring us closer to naming, observing and understanding our own complex realities, as well as realities far from our own. They permit us to experience both lived and imagined realities, both actual and possible worlds. Growing up with a rich and authentic exposure to literature, thus, both validates and expands a child's world.  
Children's literature also has a powerful role to play in the early language and literacy curriculum. Rich literature supports the development of concepts, meaning-making, vocabulary, fluency, writing, and much more, thus making possibilities for its use in the language classroom enormous. However, this use of children's literature is largely ignored in our classrooms.
Guided by the importance and necessity of these ideas, the ELI Summer School 2019 will be dedicated towards building a rich understanding of how to embed children's literature meaningfully within a framework for teaching and learning early language and literacy. 
Key ideas/questions that Summer School 2019 will engage with are:
What is "literature" and its role in early language classrooms?
How do we understand "quality" in children's literature?
How can we use literature with children in early language classrooms? The sessions will primarily explore a few prominent methods, for example, storytelling (including traditional storytelling techniques), reading aloud, literary discussions, and so on.
What are some of the different genres (e.g., fiction, non-fiction, poetry, etc.) of literature?
How do we understand children's responses to literature? How can we facilitate children's responses to literature – for examples, through talk, writing, art and drama?
Cutting across the sessions will be a core idea – that of the Teacher-as-Reader – because teachers who do not themselves read cannot engage children meaningfully in literature. Thus, the focus will be on reviving practitioner's own habits as a critical and engaged reader, in preparation for teaching literature to children.
We imagine the Summer School to be an interactive space, where expert practitioners and academics from the field of children's literature and early language and literacy will engage collaboratively with participants to explore these questions. The sessions across the five days will aim at equipping participants to incorporate these ideas into their classroom practice. The sessions and study material will be bilingual (English and Hindi) and we hope to provide participants an exposure to children's literature in other Indian languages as well.
Resource Persons
Anjali Noronha, Eklavya, Bhopal
Sujata Noronha, Bookworm, Goa
Prachi Kalra, Gargi College, University of Delhi
Deepa Kiran, Storyteller, Hyderabad
Sushil Shukla, Ektara/Editor: Cycle, Pluto
Thejaswi Shivanand, Centre for Learning, Bangalore
Shailaja Menon, ELI, TISS-Hyderabad
Sunita Singh, Ambedkar University, Delhi
Please follow the link if you are interested in reading about ELI, Summer School, 2018 on Children's Writing.