Library Educator's Course, English-2019
Applications are now open for the Library Educator's Course-English, 2019. Last date for application is 25th Feb, 2019. Interested individuals can read more and apply through the following link-
http://bookwormgoa.in/lec/
---
Big Little Book Award presents 'Celebrating Kannada Children's Literature.'
Nagesh Hegde and Nina Sabnanai have been celebrated as winners for BLBA award 2018. For further interesting details on shortlisted authors, illustrators and the jury, please visit the BLBA website here.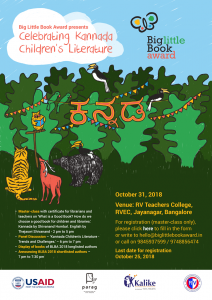 ---
RISE 2017: Public Dissemination of the LiRIL study
Literacy Research in Indian Languages (LiRIL) is a longitudinal research on children's acquisition of reading and writing two different Indian languages - Kannada and Marathi. The public dissemination of the LiRIL study will happen in Mumbai on November 29th at Y.B. Chavan stadium between 10:30 AM and 2:00 PM. The event will include a brief presentation by Prof. Shailaja Menon,  followed by two panels on Early Language and Literacy in India. This will be followed by the release of the LiRIL final report and other documents based on the work. 
---
The Early Literacy Workshop, TISS - Hyderabad

The introductory teachers' workshop for the action-research project in the government schools of Hyderabad was conducted in Deeksha Bhavan ETC, Rajendranagar on 6th July 2017. From the five intervention schools, teachers and cluster resource persons attended the workshop. Dr. Jani Reddy—lecturer at the DIET, Vikarabad and Sri. Bhupathi Rao—Rajendranagar Mandal Education Officer, inaugurated the workshop. The day-long workshop involved discussions around language acquisition in early childhood and the challenges faced by teachers in supporting children's language learning. Dr. Maxine Berntsen explained the aims and objectives of the Early Literacy Initiative (ELI). Members of the ELI team also briefly demonstrated the pedagogical approach that will be followed in these schools during the project.
---
Parag's Big Little Book Award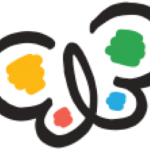 The Big Little Book Award is a first of its kind award instituted by the Parag initiative of Tata Trusts and 'Literature Live!' to recognize and honour significant contribution of authors and illustrators to children's literature in Indian language (s). The first awards were announced at Tata Literature Live! The Mumbai LitFest in 2016. Even though the process of nomination is now closed, a series of events will be organised by Parag from August to November 2017 around children's literature including book readings, library visits by authors and illustrators, and discussions to generate awareness about significant work in children's literature in India. The winners of the award will be announced in November. For more details, one can visit their website here.

---
Bookaroo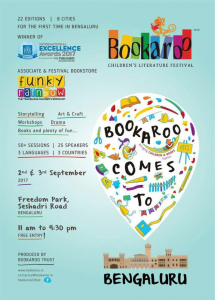 The Travelling Children's Bookshop brought Bookaroo, India's most exciting children's literature festival, to Bengaluru for the first time this September. The festival involved two days of super stories, awesome art-craft, marvellous meet-the-author-illustrator sessions, exciting workshops and shop-till-you-drop book-buying which made it a weekend to remember for many. For more details, one can look at Bookaroo's website.
---
KathaVana 2017

KathaVana is a multilingual children's literature festival organized by Azim Premji University since 2012 to promote interest in reading among school children and introduce them to the rich treasure of stories in various Indian languages. The engagement of KathaVana extends also to government school teachers, Ngo practitioners and many young adults and students of Education. The festival features book exhibitions, story-telling and story reading sessions, meeting authors and illustrators, workshops for teachers and librarians, panel discussions, and fun activities for children and adults. The dates for KathaVana 2017 are to be announced soon.  One can find out more about earlier editions of KathaVana here.
---
The Hindu Young World-Goodbooks Awards 2018

The Hindu Young World-Goodbooks Awards 2018 for Indian children's books have been announced. The purpose of these awards is to promote excellence in children's writing and illustration in India, to acknowledge innovative publishing trends, and to recognise children's literature in India as an independent and important field.
The third edition of the awards will be given at The Hindu Lit for Life which takes place in Chennai in January 2018. The award is being given in four categories, i.e for Best Picture Book Story, Illustration, Best Book-fiction and Best Book-Non-Fiction. Each award will carry a cash prize of ₹50,000, a trophy and a citation. The Hindu Young World-Goodbooks Awards are the first in India to recognise different genres in children's publishing and to reward authors and illustrators for their invaluable contribution. You can find more about this on The Hindu website, or on Goodbooks.
---
OELP's Kahani Mela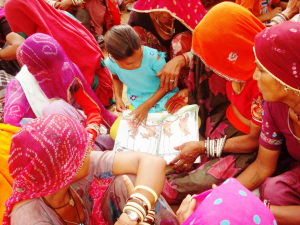 OELP is a civil society organization, committed to building strong foundations for meaningful reading, writing and thoughtful learning in young children and communities from resource poor and disadvantaged backgrounds. This summer, as part of their Village Library Program OELP organized its second Kahani Mela with the intent of building communities who share stories and celebrate it. In 11 villages hundreds of children read, created stories, performed in joyous spirited manners with support from village youth, volunteers, OELP staff and of course the entire community. For detailed descriptions and vibrant pictures, please visit the following link.
---
Parag's Unconference 2017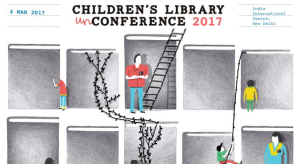 Parag's Children's Library unConference aims to create a platform where library educators and others engaged in the library space, with reading and children, get to meet, exchange ideas, present best practices and challenges and learn from each other—with the vision of enriching the library discourse in India.
For the inaugural unConference in March 2017, Parag brought together thought leaders in the library and children's literature space. The unConference was intentionally designed to facilitate more conversations between participants, panelists and display organizations. The crux of the UnConference lay in the walk-through of the displays. Eight organizations doing significant work in the children's library space were called to display their best practice around children's libraries around various themes such as making quality children's literature available, promoting inclusion in library spaces, encouraging participation of school and local communities, encouraging reluctant readers, or making the library more engaging and dynamic. The participating organizations were Bookworm, Centre for Learning, Deepalaya, Kalike, Muskaan, Pratham, Room to Read and Trilogy. To read more, visit here.
---
 KathaVana 2017: Understanding Writing for Children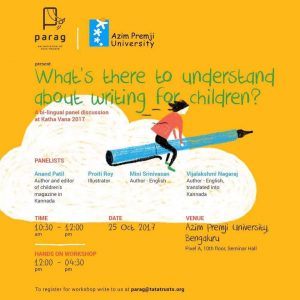 KathaVana is a 3+ day event, including activities for students, events for teachers and librarians, and a mela for children.